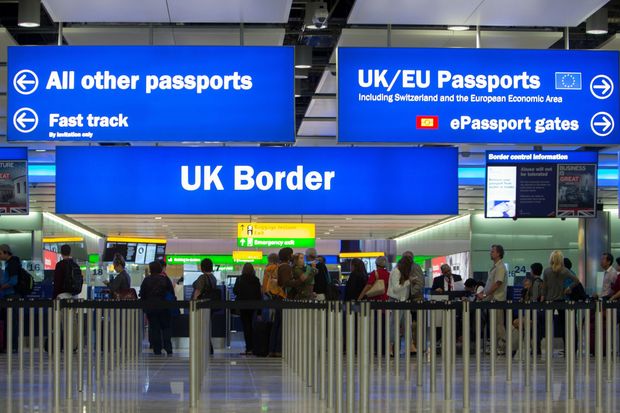 How To Apply For UK's Points Based System?
The newly introduced point-based system has been different from the previous ones. As a potential immigrant you would need to be aware of where you stand and what has to be done. Having clarity on these would improve your chances of immigration to the UK.
Anyone who is looking to immigrate to the United Kingdom would have a fair share of questions which we aim to answer in this post. These answers would enable you to not just understand the system better but also put forward your best case in a bid to attain immigration. 
We look at what the UK point based system for 2021 is, who can be eligible, and how to apply for the same. This way you would have all the necessary information handy. We also look at how the Brexit agreement would affect you as a potential immigrant. 
In order to understand all the details provided below you should be aware of what the system is all about. This step-by-step guide would ensure that you are educated enough about the UK's points based system 2021.
What is the UK's Points Based System?
Anyone looking to migrate to the UK to work and live and gain permanent residency will now have to apply via UK's points based system that will award points for different factors such as age, qualification, work experience, job offer etc. Candidates have to score a total of 70 points more on this later.
If you are an EEA national who is already living in the United Kingdom by 31st of December 2020 this point based system is not applicable to you. You have the right and can continue to work even in 2021 up to the 30th of June in the United Kingdom. 
Your employers are obligated to accept your National Identity Cards as well as Passports until this time. This is however, just a transition phase measure which everyone would have to be well aware of. 
Employers tend to hire skilled workers from around the world based on this point system that is floated by the government. This acts as a means of regulating who is allowed to work in the United Kingdom with all the legalities covered. 
In case someone is not able to meet all the requirements they would not be eligible to come the United Kingdom directly on a work visa. So, it is imperative that you have all the mandatory areas covered before you start looking at optional ones to attain points that is required in the UK. 
Who is eligible for the UK's Points based system?
An applicant needs to score a total of 70 points for different elements in order to qualify. These points are made up by factors thats are mandatory and non mandatory. An applicant must meet the mandatory points as mentioned in the points table below before they can look at the non-mandatory points which can be traded with one another.
Skilled workers planning to work in the United Kingdom would have to follow the below criteria to ensure that they meet all requirements. There are no shortcuts about it and the below table makes everything crystal clear for everyone. 
| | | |
| --- | --- | --- |
| Requirement | Not Tradable/Tradable with Other Specific Requirements | Number of Points |
| The employer should provide you with an offer of appointment. The employer should also be an approved sponsor. | No | 20 |
| Availing the employment with the appropriate skill level. | No | 20 |
| Fluency in spoken English and ability to understand.  | No | 10 |
| For people with salary anywhere between £20,480 and £23,039 | Yes | 0 |
| For people with salary anywhere between £23,040 and £25,599 | Yes | 10 |
| If your salary is £25,600 or over | Yes | 20 |
| If you are having an employment with an occupation which as a scarcity as nominated by the Migration Advisory Committee. | Yes | 20 |
| If you have an academic qualification which is a PhD having a subject that is relevant to whatever employment that you have taken up. | Yes | 10 |
| If you have an education qualification that is a PhD in a STEM subject which is relevant to the employment. | Yes | 20 |
Anyone who chooses to apply would need to have 70 points. Among these 70 points your mandatory requirement would be of 50 which cannot be traded with anything else. However, you have 20 points that can be tradable with others to work in the UK.  
There are 5 tiers that the point-based system is comprised of for people aspiring to work in the United Kingdom. They have been categorized into various categories in accordance to employment, investment, and others. 
You would have to be aware that an employer should be registered with the HomeOffice's register of tier 2 sponsors. Only these are capable of providing you with sponsorship that carries the mandatory 20 points that is required. 
If you visit the register of sponsors you would be able to get a list of the employers or organisations that are registered with them. The regulations were put in place for the register of sponsors from the 31st of March 2009. 
How To Apply For UK's Points Based System?
There are a few steps that can give you clarity on how you can go about applying for a UK visa. With these details you would know what you already have and what you need to acquire before you become eligible for a work permit to the United Kingdom. 
To apply for a Skilled Worker visa, you need to:

You will be able to save your application and come back to it at another time if you need to.
There are some basic requirements that you would need for applying for a United Kingdom visa. These are irrelevant of whatever type of visa you apply for and includes employment, business, and student visa. The requirements are as follows:
A completed application form depending on the visa that you are applying for. You can either choose to complete the application process online or have a manual one filled up and submitted. However, the online version of the form is easier by all means for anyone. 
Two photographs that are in specifications with the size and colour that is required by the government of the United Kingdom. 
You should possess a passport issued by your home country or residing country. The passport should essentially have a blank page and should be valid for 3 months after your planned departure from the United Kingdom. 
The applicant would also have to prove that they are able to take care of them financially while in the United Kingdom. This can include your pay slips, bank statements, and other income related documents. 
You should also possess a document that show where you are likely to stay while in the United Kingdom. It is not imperative that you pay in full for this accommodation while applying for the visa.
A detailed travel plan or itinerary should be provided while at the time of applying. This should include dates, places, appointments, and other details which would be scrutinised before your visa is granted or approved. 
People traveling from certain countries would have to provide test results of tuberculosis too. 
The biometric information is something that you would require to submit if your planned stay exceeds 6 months in the United Kingdom. 
You should also provide them with the receipt that states that you have already paid for your UK visa application.
Conclusion
Irrelevant of your current status in the country that you belong to there are these things that you would have to furnish. Only upon qualifying on all these aspects you would be granted a visa for an entry into the United Kingdom.   
Ask A Question Or Discuss Your case

FREE CALL BACK.
SPEAK TO AN ADVISOR