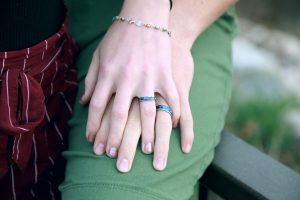 Is it better to get a UK Fiancé Visa or Spouse visa?

When it comes to getting married and celebrating life with the one you love, lengthy visa applications and the hassle of paperwork might seem like the last thing on your priority list. But it's important that you identify early on which type of Partner Visa matches your circumstances. After all, there's not just the UK Spouse Visa and Fiancé(e) visa to choose from. There is the UK Unmarried Partner Visa, Marriage Visitor Visa, and General Family Visa. However, if you're planning on tying the knot – whether in marriage or through a civil partnership – or you have done so already, it's highly likely either the UK Fiance Visa or Spouse Visa is the right route for you. Yet you might still be wondering which one is best out of the two.

So, let's take a look at your possible options and weigh up the pros and cons of each.
Getting married in the UK

First of all, if you're not already married yet, then you won't be able to apply for a UK Spouse Visa.
However, seeking a Fiancé Visa or Marriage Visitor Visa depends on whether or not you and your
partner want to marry in the UK, and if you want to stay in the country afterward and live together
as a family.

You may prefer a Fiancé Visa if:
You are already engaged and intend on marrying in the UK
You intend on marrying within 6 months of receiving entry permission (the visa)
You want to switch from a Fiancée Visa onto a UK Spouse Visa to remain in the UK after
marriage The key benefit of the Fiance Visa is that you can easily switch onto a full UK Spouse Visa without
ever needing to leave the country. However, the downside is that this is a lot of paperwork to contend with. Plus, you'll still need to meet the complex Spouse Visa requirements, even if your Fiance Visa application is accepted.
It is no guarantee that you will be successful with your Married Partner Visa application even once
you have married. The Marriage Visit Visa, meanwhile, is for couples who want to marry in the UK but who may not
have an immediate intention to remain in the country after the wedding – if at all. Essentially the Marriage Visitor Permit allows couples to marry in the country for up to 6 months, after which they must return to their original country of residence. You cannot transition from a Marriage Visit Visa onto a Spouse Visa as you need to leave the UK at the end of your wedding.
Living together in the UK
For a UK Spouse Visa, at least one of the applicants must be a British citizen or permanent resident
of the UK. This is important because he/she will then 'sponsor' their loved one's visa application. In
turn, this will allow the couple to live together under the same roof in the UK, providing that they can also satisfy the Spouse Visa accommodation requirement. The Fiance Visa does not mean you and your fiance will be able to live in the UK after your marriage has taken place. However, you can switch onto a Spouse Visa without needing to leave the country. Only with a Spouse Visa are you able to remain in Britain for up to 2.5 years. After 2.5 years, you can then seek a Spouse Visa extension. And, once you have renewed your visa and accumulated five years in total, you can switch onto permanent residency status like Indefinite Leave to Remain (ILR). Therefore, if you and your married partner have dreams of living together in the UK once you have formally wed or entered a civil partnership, then the Spouse Visa is the route to go.
Which visa has faster processing times?

Generally speaking, most Family Visas are processed at the same time and should take no longer
than 12 weeks. But you may want to consider this waiting time when booking your wedding venue
and travel tickets if you are seeking a Fiancé Visa. By contrast, a Marriage Visitor Visa can take as little as three weeks to receive a decision. However, any mistakes or missing pieces of evidence in your application could also increase the processing time as UKVI will need to contact you for further information. If you're concerned about processing times, UKVI does offer fast-track and super-priority services at a premium cost.

Our immigration lawyers in London here at 1 Absolute Advisor can also ensure that your application is to the
the highest standard before you submit it to the authorities, increasing your chances of a seamless
turnaround and visa success.
How long does the Fiancé Visa and the Spouse Visa last?

The Fiance Visa is designed to give you adequate time to marry in the UK. Whereas, the Spouse Visa
exists to support newly married couples into the near future, ensuring that they can live together in
the UK.

The length of stay is as follows:
A Fiance Visa expires after six months
A Spouse Visa lasts for 30 months
The UK Spouse Visa is not an indefinite visa. Before your 30 months of permission expires, you will
either need to extend/renew the Spouse Visa or switch onto an alternative visa, such as a Work Visa,
in order to remain in the country.
Which visa has an easy application process?
The application process for any type of Family Visa in the UK is far from easy. However, with that
being said, the Fiance Visa could be considered slightly easier as it has fewer immigration requirements and criteria to overcome. The UK Spouse Visa application contains some of the most rigid and complicated immigration rules across the entire Tiered, Points, and visa system. This is because the route became a common avenue for fraud and exploitation where applicants marry for the sole purpose of a visa advantage. However, with the right immigration advice and professional guidance, the application process can be smooth and straightforward.
What are the visa fees for fiancée and married partner visas?

Another key factor you must consider is the cost:
The UK Fiance Visa costs £1,523
The UK Spouse Visa costs £1,523
The Marriage Visitor Visa costs £95
As you can see, the Visit Visa is significantly cheaper than that of the other two. However, this is
because there is no expectation of you to remain in the UK after your wedding. It is also pertinent to note that while the UK Spouse Visa and Fiancée Visa is the same price, if you opt for the fiancée route with a view to switch onto a Spouse Visa, you will have paid £3,046. And this fee doesn't include other mandatory costs like the Immigration Health Surcharge or lawyer fees.
What are the options for couples who don't want to marry?

If you and your partner do not want to marry at all and you are not currently engaged, you can seek
an Unmarried Partner Visa instead. This visa permits applicants to live together on UK soil, however, the application process is significantly harder and more stringent as you have to prove that your relationship is 'akin to marriage'.
You also have to prove that your relationship is serious enough to last.
How can your immigration lawyers help?

Our immigration experts are well-versed in all areas of UK family law, including the Spouse Visa,
Fiance Visa and more. We can help you to apply for the right visa which matches your individual circumstances and needs. We can speak to you no matter where you are in the world. Get in touch today by calling us on 0207 993 6762 and find out about our bespoke Spouse Visa advice services.