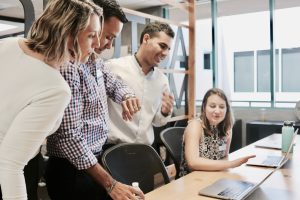 UK Expansion Worker Route

On 15 March 2022, the UK Home Office issued a new statement of changes to the immigration rules.
This has significantly altered the way in which overseas companies are able to set up a new branch in
the UK – and how skilled workers are able to migrate to the country for work purposes. Part and parcel of the Government's "Plan for Growth" package includes new Global Business Mobility routes, in which the Sole Representative of an Overseas Business Visa has been subsequently changed to the UK Expansion Worker Visa, amongst others. What this means is that the Sole Rep Visa will close to new entrants as of 11 April 2022 and prospective workers have a wide range of options to undertake employment in the UK under the shiny new Global Business Mobility Appendix.

However, the route does share some similarities to that of the Sole Representative route – and the
criteria can be difficult to satisfy as applicants need to score 60 points to be eligible.

Do you need immigration advice? Our immigration lawyers here in London are on hand to help you
with any Work Visa or business mobility route you require. Call us today on 0207 993 6762 to find
out more.
What is the UK Expansion Worker Route?

The UK Expansion Worker Route is part of a larger package in the new immigration rules belonging
to the Global Business Mobility category.

The Global Business Mobility package includes the following routes:

 Senior or Specialist Worker
 Graduate Trainee
 Service Supplier
 Secondment Worker
 High Potential
 UK Expansion Worker
What are the requirements of Expansion Worker UK Visas?

Although the UK Expansion Worker route is a brand new option introduced into the immigration
rules, it does share some similarities with the now-expired Representative of the Overseas Business
route.

One of these similarities is that applicants must be migrating to the UK for business purposes –
which includes sending a senior manager to set up and trade in a new UK branch with a view to
expand the businesses' presence overseas.

The rules stipulate that the overseas company must not already have a trading presence in the UK.

As a general rule of thumb, applicants must:
Have worked for the company for at least 12 months (or earn a high salary)
Be a senior manager or specialist employee
Earn a minimum salary of £42,000
Receive a Certificate of Sponsorship from a licensed employer
Demonstrate they have the relevant skills, qualifications and experience for the job
The applicant will need to accumulate 60 points based on their sponsorship, skill level and salary.
However, there are also some major alterations in the rules – notably the loss of settlement rights
for staff who set up shop in the UK and the requirement for Sponsorship.
How to score 60 points for the UK Expansion Worker Visa

Most work visa routes to the UK hinge on the applicants' ability to score eligibility points.
For the Expansion Worker Visa, prospective employees must accumulate 60 points based on the
following:
Sponsorship (20 points): Gained with a Certificate of Sponsorship from a recognised sponsor.
The employee must already be working for the sponsored party and have worked outside of
the UK already for at least 12 months. The only exception to this rule is if the employee is
classed as a 'high earner', or is a Japanese national seeking to set up a UK branch under the
UK-Japan Comprehensive Economic Partnership Agreement.
Skill level (20 points): Can be gained by demonstrating the skills, qualifications and
experience necessary to succeed in the job.
Salary (20 points): The applicant must be offered a salary that matches the accepted
occupation code. At a minimum, this must be £42,400.
The salary requirement

The individual tasked with setting up a presence in the UK must have already worked for the
company for a period of at least 12 months OR be earning a high salary in the region of £73,900.
To be eligible for this visa, applicants must be paid an appropriate salary in accordance with the
relevant job code in the UK, which can be higher if you plan on establishing the branch in London.
However, the minimum salary to be eligible for the route is £42,000.
Two-year leave only

Unlike the Sole Rep Visa, applicants are only permitted to work in the UK for two years.
What this means is that UK Expansion Worker applicants are not eligible for settlement in the UK
such as Indefinite Leave to Remain (ILR).

This is certainly something to consider as businesses may need to transfer and make staff
arrangements every two years.

However, it is still a great opportunity for managers with an entrepreneurial spirit and who wish to
relocate to Britain for a short yet reasonable amount of time. And, should they like their position in
the UK, managers can always seek to extend their leave for up to five years.
But even so, it still will not result in the option to settle in the UK permanently.
Requirement for sponsorship

The immigration rules for the Expansion Worker Visa stipulate that applicants require proof of
sponsorship. What this means is that UK employers are required to issue a Certificate of Sponsorship – and in order to do so, obtain a Sponsorship Licence from the UK Government.

This normally applies to UK-based companies, so it remains unclear as to how an overseas business
which has no presence in the UK would be able to apply for a Sponsor Licence. However, the Home
Office will issue guidance on this shortly, and it may be that overseas businesses are able to apply for
a Sponsor Licence if there are plans in place to expand in the UK.
Flexibility on shareholding

While the Representative of an Overseas Business Visa dictated that employees who have more than
50% shareholding in the business were ineligible to apply, this requirement has been scrapped in the
new Expansion Worker Route.

This is of huge benefit to your business as your senior manager can have shareholding and other
financial interests in your business without jeopardising their visa application to come to the UK.
Flexibility on staff numbers

Another key benefit of the Expansion Worker route is that businesses can send more than one
eligible applicant to the country. The previous Sole Representative Visa only permitted one employee entry into the UK to establish a UK branch. Now, however, a whole senior team can apply together and migrate to the UK to propel the business in Britain. It is important to note that each staff member still needs to meet the immigration requirements of this visa category and will still need to score the relevant 60 points each.
How can 1 Absolute Advisor help?

Considering the many key changes to the Sole Rep Visa route, it is highly advised that businesses
seek immigration advice to assist with them with their application. Your business overseas will need assistance in obtaining a UK Sponsor Licence. Meanwhile, the applicant – or team – will need advice on how to satisfy the immigration rules for this specific route. At 1 Absolute Advisor, all of our immigration lawyers are OISC-trained and certified in all aspects of corporate and business immigration law. We can help both your business and your team to migrate to the UK, whether you need full visa assistance or general guidance.
Contact our team today on 0207 993 6762 to find out about our global business immigration advice
packages.
FAQs
How long can I extend the Expansion Worker visa for?

The Expansion Worker Visa route typically only lasts for two years, after which you must seek to
extend or renew the visa. In total, you can remain in the UK with this permission of leave for up to five years. However, it is worth noting that it still will not lead to settlement such as ILR or British Citizenship.
How can I seek settlement with an Expansion Worker Visa?

Settlement, such as Indefinite Leave to Remain (ILR), is usually only gained after a period of five
years of continuous residency in the UK. Yet overseas nationals operating under an Expansion Worker Visa are prohibited to switch or seek any form of settlement. Nevertheless, it is possible for managers to switch onto a completely different route entirely, such as a Skilled Worker Visa or similar, which then begins the count towards continuous residency and thus settlement.
I already have a Sole Rep Visa. Do I need to switch onto the UK Expansion Worker Route?

If you already have a Sole Representative Visa, you don't need to worry as your visa won't expire
overnight. You don't need to change anything. In fact, since you have already been awarded the visa and are in the UK already, you are able to extend your leave and apply for settlement without any disruption.
In other words: your Sole Rep visa is still permitted up until it naturally expires. The change in the
immigration rules if only of concern to brand new entrants.