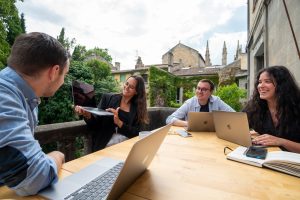 Global Talent Visa Benefit

The Global Talent Visa is a specific migration route for exceptionally talented individuals in specific
fields. This includes academia or research, arts and culture or digital technology.

The route was designed to replace the Tier 1 Exceptional Talent Visa in February 2020 in a bid to
continue attracting the 'best and brightest' candidates from across the world and liberate some
aspects of the application process.

Still, applicants are required to have won an eligible reward OR have received endorsement from
one of six registered bodies by the UK Government and the application process can be considered
one of the most difficult processes to endure.

However, recipients of the Global Talent Visa can reap multiple benefits that many other visa
applicants are unable to gain.

In this blog on Global Talent Visa Benefit we'll explore each benefit of the visa – and give advice as to how you can apply.
Unsponsored freedom
A major pulling factor for the Global Talent Visa is that it is an unsponsored immigration route. By
contrast, most other visas require a sponsor, whether that is your married partner for a Spouse Visa
or your employer for a Work Visa.

What this means is that successful applicants of the Global Talent route can exercise complete
freedom over where they work. Like British citizens, applicants can change roles, employers, seek
self-employment, set up a company and/or earn money through property or other assets without
needing to inform the Home Office.
Five years allowance and fast track to settlement

Many UK visas are capped for three years. After which, applicants are required to either extend,
renew or seek an alternative visa in order to remain in the country.
However, Global Talent Visa holders are offered a generous five years to live and work in the
country.

After accumulating five years of residency, visa applicants can then switch onto the permanent
immigration status, Indefinite Leave to Remain (ILR). After 12 months of ILR, you can then seek full
British Citizenship.

Yet for Global Talent Visa holders, you can switch onto ILR status after just three years.
Flexible visa length

If you don't want to remain in the UK for five years, you can instead alter the visa length to suit you.
This works both ways: you can renew the Global Talent Visa multiple times, or reduce the amount of
time you want to remain in the UK.
Absences from the UK waived

Most other visa applicants are required to meet 'continuous residency' criteria when they come to
apply for ILR status. This means that they cannot spend huge chunks of time outside of the UK, and
must abide by absence rules in order to be eligible. For instance, some visa applicants are limited to spend no more than 180 days outside of the UK in a 12-month period.

However, Global Talent Visa applicants do not need to worry about their absences from the UK.
Since it is assumed Global Talent holders will be conducting field work and that travel may be a
necessary part of the job, the Home Office waives this requirement.

In fact, any time spent outside of the UK while doing research can actually be counted towards your
residency.
Bring dependents with you. This is one of the main Global Talent Visa Benefit
In addition, Global Talent Visa holders are able to bring their loved ones with them to the UK.
However, this is restricted to immediate family members, such as your partner and children, and you
will still need to pay the visa fee of £608 per each dependent.
Lower visa fees

The admin fees for a Global Talent Visa are also much cheaper than the average UK visa.
For instance, while some Work Visa applicants can expend to spend within the region of £1,220 to
£1,408, the Global Talent Visa costs only £608. However, you will still need to pay the Immigration Health Surcharge which costs £624 per year, per person.
Demonstrate leadership on a global scale

If you're already an established academic or researcher, the Global Talent Visa is one way to stamp
your mark on the world while in the UK. It allows you to travel in and out of the country as needed for research and work purposes.
How to apply for a Global Talent Visa

The first thing you need to do when seeking a Global Talent Visa is to weigh up if you're legitimately
eligible.
As mentioned, this route comes with numerous benefits, but has a notorious reputation of being
difficult to achieve.

That's because you need to have either:
Won an eligible award
Successfully received an endorsement that proves you are a leader/potential leader in your
field
Only once you have an award or endorsement are you able to apply for the visa itself.
How to seek an endorsement

In order to prove that you are a leader or up-and-coming leader in your field of work, you need to
receive an endorsement from an eligible body to support your claim.
For academia and research, you must have a background in either science, medicine, engineering or
humanities and have either:
An eligible job offer as an academic or researcher
An individual fellowship
A research grant approved by UK Research and Innovation
An eligible award
Your application peer reviewed
It can take anywhere between 2 to 5 weeks to receive a decision on your endorsement, depending
on whether your application needs to be peer reviewed.
For arts and culture, you must be a leader or potential leader in either combined arts, dance,
literature, music, theatre or visual arts. The endorsement falls on the shoulders of Arts Council
England to decide, but you must have worked regularly in your field for at least five years and be
producing or performing work that Arts Council England deems 'outstanding'.
Likewise for architecture, you must receive endorsement from the Royal Institute of British
Architects (RIBA) which acts on behalf of Arts Council England. In addition to being deemed
'outstanding', you will also need to prove that your work is well known in at least two countries.
For fashion design, the same as the above criteria applies, but your endorsement will come from
The British Fashion Council. Your work must have been sold or exhibited internationally and your
portfolio must be recognised by leading figures within the fashion sector.
And finally, for film and television, you must have demonstrable work experience in film,
television, animation, post production or visual effects. Your endorsement will come from The
Producers' Alliance for Cinema and Television (PACT) and you must provide 3 letters of
recommendations, up to 10 pieces of evidence that showcase your talent and skills and evidence of industry recognition such as an award.
What is an eligible award for the Global Talent Visa?
There is a long list of eligible awards available under each category, which can be viewed on the
Government's guidance page.

However, to name just a few, you could have won an award in:
Architecture (such as the Pritzker Price or Royal Gold Medal)
Arts and culture (such as the Brit Awards, Hugo Boss Prize, International Booker Prize,
International Dublin Literary Award, any Olivier Award, Queen Elisabeth Competition first
prizes and Tony Award, among many others)
Digital technology (such as the ACM Prize in Computing or the Turing Award)
Fashion design (such as the Fashion Award – Accessories Designer, or Designer of the Year)
Film and television (such as the Academy Awards, BAFTA, Golden Globes or Grammy Award)
Science, engineering, humanities and medicine (such as the Albert Lasker Basic Medical
Research Award, Balzan Prize, Blue Planet Prize, Centenary Prize, Davis Medal, Faraday
Medal, Fields Medal, International Award/Medial, Isaac Newton Medal and Award, L'Oreal-
UNESCO Award for Women in Science, Nine Dots Prize, Nobel Prize in Chemistry, Economic
Science, Literature, Physics or Medicine, and many more)
If you possess a prize or medal from the Government's list, you can also bypass the endorsement
aspect and go directly to apply for the visa.
How can your immigration lawyers help?

Since the Global Talent Visa is such a laborious, lengthy and difficult visa to apply for, it is highly
recommended that you seek immigration advice from a licensed professional.

You don't want to run the risk of making any errors or mistakes in your application as this could
jeopardise your chances of success. And there is lots of room for error in this process as you will
need endorsement. You will also need to provide specific documentation that is unique to you and
your circumstances.

Fortunately, our corporate immigration lawyers are on hand to help you with every step of the
application. All of our solicitors are OISC-certified and trained, meaning you can rest assured that
your application is in the best qualified hands possible.

If you found this post on Global Talent Visa Benefit helpful and you need assistance with the Global Talent Visa application, call our immigration lawyers today on 0207 993 6762.