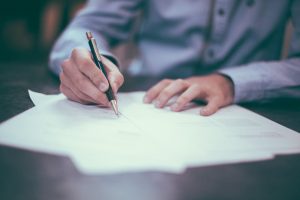 So how many referees do I need for British Citizenship?
If you're thinking of applying for British Citizenship, there are a number of requirements you must be
aware of ahead of submitting your application.

Indeed, there is a long list of British Citizenship eligibility requirements which range from concrete
requirements, like passing the Life in the UK test and English Language tests, to ambiguous
requirements like proving you are of 'good character'.

In addition, you need to prove that you have continuously remained in the UK for a certain number
of years and prove you are who you say you are.

The Home Office has established measures within the application process to stamp out cases of
identity fraud and deception. As a result, British Citizenship applicants are also required to obtain
people to prove their identity – these are your 'referees'.

But how many do you need and what do they need to do? Let's find out.
How many referees do I need for the citizenship application?

You only need two referees to apply for British Citizenship.

However, you must have known your referees personally for at least three years, but they cannot be
a relative or friends. It's important you choose your two referees wisely as the success of your application hinges on your identity and character – the two elements which your referees are endorsing.
What are the referee requirements?

Not everyone is eligible to be a referee for citizenship. In fact, your referee must meet the Home
Office's expectations – failure to do so could seriously jeopardize your application, if not delay the
process.

Fortunately, you only need to obtain two referees who:
Have known you for at least 3 years
Are not a relative, agent, solicitor, or employee of the Home Office
Do not have any criminal convictions in the past 10 years
Do both of my referees need to be of 'professional standing' for citizenship?

You might already know that at least one of your referees has to be of 'professional standing' in the
UK – I.e., that they work in a specific industry or have a specific job title as outlined in the UK
Government's Citizenship criteria. For example, your manager or director of the company you work
for could act as your referee, but there are plenty of other professions which fit the bill, too.
However, you don't need two 'professional standing' referees, though if you have two to hand, that
might be a preferable route to take.
Your second referee, if he/she is not a person of professional standing, instead must be a British
Citizen with a UK passport and be over the age of 25 years old. Both referees are required to sign a declaration to endorse your application and verify your identity.
Can I submit multiple referee declarations in the UK Nationality application?

UK Government immigration guidance clearly stipulates that you need two referees, so it is probably
best that you stick to this figure and submit no more (or no less) than the two required.
It is also important to note that is it not uncommon for UKVI to reject Visa and Status applications if
the caseworker assigned to your application judges that there is too much information in your
portfolio, and likewise if it is too little. In the event that your portfolio has too much information,
the decision-maker might ask you to amend the application as it might extend beyond reasonable
expectations and what you have paid in admin fees to process it. You have to establish the right balance and ensure you are meeting the criteria coherently and
appropriately.

At 1 Absolute Advisor, our immigration lawyers know exactly what UKVI is looking for in each
Citizenship application it receives. We can advise you on your next steps and ensure you have a
watertight portfolio of evidence that doesn't overwhelm the caseworker nor miss any important
points.

Get in touch with our client care team today by calling 0207 993 6762.