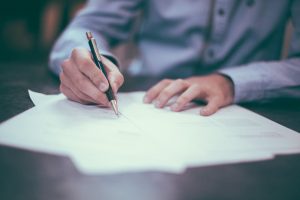 So how to find a referee for British Citizenship? A question we get asked many times.
When seeking to naturalize as a British citizen, you need to ensure that you meet the British
citizenship requirements.

This includes to name a few:
Proof of 'continuous residency in the UK' (usually for a period of 10 years or more)
Proof of Indefinite Leave to Remain status for 12 months
Evidence of having passed the Life in the UK test
Proving English Language capabilities to a certain standard
Passing the 'Good Character' test
Supplying two referees to verify identity
As you can see, providing 2 referees is just as important as meeting all the other British citizenship
eligibility criteria. Yet applicants continually leave their referees to the last minute, falsely assuming
that it is the least concerning or time-consuming aspect of the application.
At 1 Absolute Advisor, we have discussed at length the importance of requesting suitable referees
for British citizenship. For instance, whether your partner can be a citizenship referee (they cannot), your teacher, your doctor or even your friend. Either way, it's likely you know someone within your reach that can be a suitable referee. But how do you find them? In this blog, we'll explore your options.
Finding a suitable referee – the requirements

First of all, you need to familiarise yourself with the British Citizenship referee requirements. This
includes:
Asking two separate people to act as referees who are not related to the applicant or even
one another AND who have known the applicant in some personal or professional capacity
for 3 years
Asking at least one 'professional person';
And asking someone else who is over the age of 25 and has a British passport, unless there is
scope to provide 2 referees of persons with professional standing Both referees need to sign a declaration and essentially endorse your British citizenship application. As such, it is prohibited for convicted criminals and employees of the Home Office to act as referees. This is because no such crimes are 'spent' in the eyes of UK immigration law and to mitigate against any potential conflicts of interest or possibly deceptive applications.
How to find a suitable British Citizenship referee who is a professional person

However, just because the requirements are very specific – and asking someone to act as a referee
can be a huge commitment – doesn't mean finding a referee has to be hard.
In fact, there are dozens of suitable professional persons accepted by the Home Office. This includes
people who work as an accountant, pilot, barrister, journalist, doctor, manager of a VAT registered
company or charity, and many more.

The good news with asking a professional person is that you may have only interacted with them
over the course of three years within a professional capacity. Plus, he/she does not need to be a
British Citizen in order to provide you with a reference.

You'll be surprised at how easy it can be to find a suitable professional person. Throughout the
the course of your five to ten years of residency in the UK, you most certainly know someone of
professional standing in their community who can vouch for your application.
Who should I ask to be my second British citizenship referee?

Complications may begin to arise with your references if you are unsure who to ask for your second
referee.

However, you have options.

You can either choose to ask another professional person or someone who you have known
personally for three years who is over the age of 25 with a British passport.
How can London immigration lawyers help?

Our immigration lawyers in London can help you to find a referee for British citizenship – and more.
Our experts are fully versed in all the UK immigration rules, including nationality and status
applications like Indefinite Leave to Remain and British Citizenship.

If you need general advice or a professional to look over your application, we can help. We can even
help you to create an airtight portfolio of supporting evidence and guide you through each step of
the Citizenship application, whether you are seeking to naturalize or through some other route.
Contact our team today on 0207 993 6762 to find out more about our leading immigration services
in London.