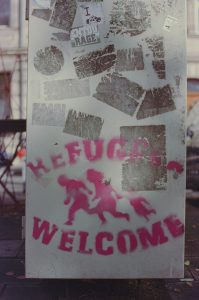 UK Visa For Ukrainian Refugees.
UK Government offers support for Ukrainians fleeing Russian invasion through two Humanitarian Routes As the situation in Ukraine begins to worsen every day, the UK Government has outlined numerous visa packages and rolled out fresh measures to facilitate those fleeing the conflict. Already, the Government has confirmed that Ukrainians in the UK on a Work Visa, Study Visa or Visit Visa will have their visas extended. They may also be able to switch onto a different visa route to remain in the country. And last week, the Government announced it would expand the Ukrainian Humanitarian route in a bid to welcome thousands more Ukrainians to safety.

However, the Ukrainian Humanitarian Route is somewhat limited. Only British family members, or
people who have Settled Status in the UK, are able to sponsor their Ukrainian loved ones to come to
the country. But there is some degree of flexibility in this route as people in the UK can sponsor their immediate and extended family members through the Humanitarian Route.

Family members for the purpose of this route include:
Parents
A spouse or civil partner
Grandparents
Children (including adult children)
Siblings
Extended family members relating to the above
For instance, someone with Settled Status or British Citizenship in the UK could sponsor their sibling who can also bring their spouse and child. Fortunately, other visa requirements such as English language capability and salary will be waived for the purpose of resettling those in need as quickly as possible. In response to the urgency, the Prime Minister has since announced that a new scheme, an uncapped Sponsored Humanitarian Visa, will also be available for Ukrainians who have no familial ties to the UK but who might be willing to work. The uncapped route means many more vulnerable people will be welcomed on British soil, providing they are sponsored by a professional body like a workplace, or through other means like local authorities and communities. Individuals are able to sponsor people fleeing Ukraine via this route too, and the UK Government is quickly matching those in need to people in Britain who are willing to sponsor. But it is important to note that the uncapped Sponsored Humanitarian Visa means the onus is on the UK sponsoring party to provide housing and integration support. Ukrainians and their British family members can call the free helpline on +44 808 164 8810 for round-the-clock advice, or go to any Visa Application Centre overseas to enrol their biometrics (such as finger prints and ID).
Although the Visa Application Centre in Kyiv, Ukraine, has closed as a result of the ongoing conflict,
the UK Government has increased its capacity to facilitate pop-up visa centers in other countries.
This includes Hungary, Poland, and Moldova.

1 Absolute Advisor is also able to help with advice, guidance, and support throughout this difficult
time. If you need help sponsoring a Ukrainian individual or family, we can help. Alternatively, if you
are a Ukrainian national in search of sanctuary, our expert team of advisors can offer full support.
Call us today on 0207 993 6762 to find out more about our emergency settlement services for
asylum seekers and those in humanitarian need. The Home Secretary, Priti Patel, said the following about the new announcements: "Putin's war on Ukraine is monstrous and unjustified and the Government will stand with the people of Ukraine, both at home and abroad.

"I have been talking to our friends in Ukraine and in the region to ensure the humanitarian support
we offer is in the best interests of Ukrainian people. "Our Ukrainian Humanitarian Route will allow families to be reunited in the UK and our bespoke sponsor route will give safety to Ukrainians who have sadly been forced to flee their homes. "This agile response to the despicable Russian invasion is living proof of our New Plan for Immigration – doing what is fair and right to support people in genuine need."
The UK will also continue to offer defensive weapons and financial support (£220 million) to Ukraine
as the situation evolves.
Please get in touch with our immigration lawyers who can help you with bringing your family from Ukraine via the Ukraine Family Visa Scheme to the UK or if you are Ukrainian Refugee looking to apply for a UK Visa. UK Visa For Ukrainian Refugees.