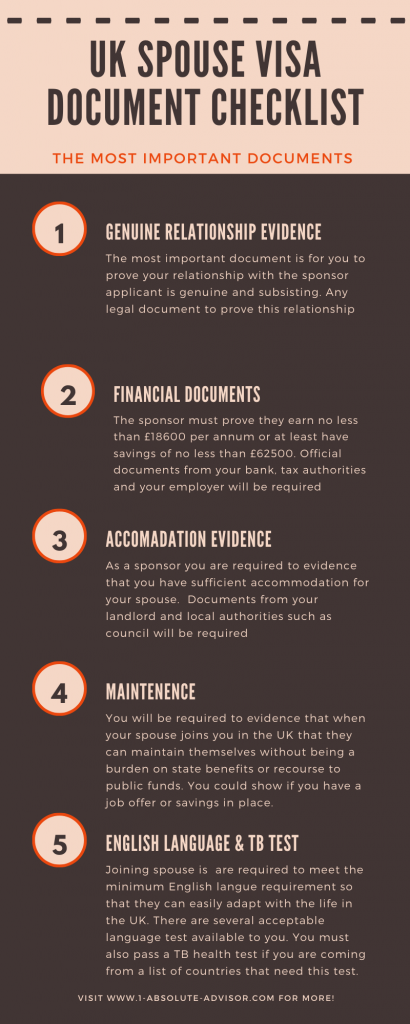 The above UK Spouse Visa Document Checklist infographic explains the most important documents required for a UK Spouse visa application. This is not an exhaustive uk spouse visa document checklist and the full requirement for the application can be found here. Please note the requirements mentioned in this post are correct and up to date when this post was produced. One must always check for the latest requirements by visiting the Home Office website.
Alternatively you can seek help from a registered Immigration Adviser. The OISC, maintains a register of the immigration advisers that they regulate where you can find a suitable adviser. We are one of the recognised advisers who have filed hundreds of uk spouse visa applications and have a 100% success rate.
We understand how important it is for your spouse to join you in the UK and the process of getting a uk spouse visa is not as straight forward as it used to be few years ago. To make it worst the UK government charges substantial amount in application fee, so it is paramount that you get the application right the first time.
We offer a FREE 15 minutes call with one of our registered advisers who have years of experience dealing with these applications and have been vetted by the regulatory body to meet the highest standards when it comes to representing clients with their uk spouse visa application. Please click on this link to request a free call and we will get back to you within 24 hours (usually a lot quicker) to arrange a time where we can discuss your uk spouse visa application and answer any queries you may have.
If you found this uk spouse visa document checklist helpful please don't forget to share. If you have any questions you may post in the comments section below.